SIGN AND SIMPLY. THE BEST!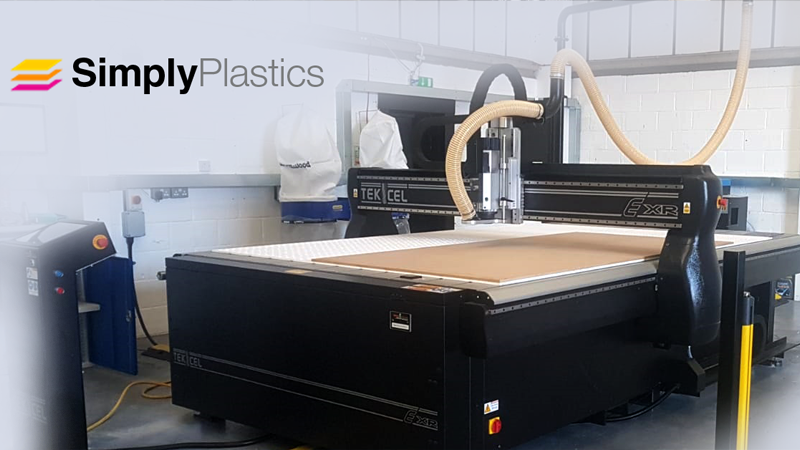 SIGN AND SIMPLY. THE BEST!
Simply Plastics has just installed its second Complete CNC Solutions supplied Tekcel CNC Router - here's why…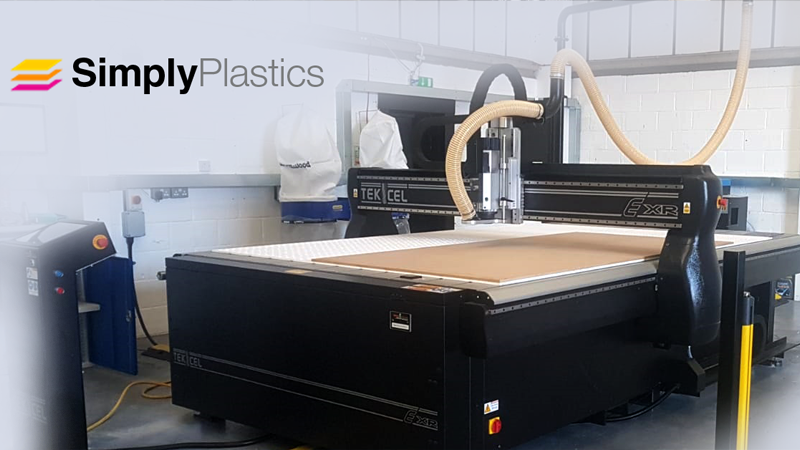 Simply Plastics is a successful supplier of plastics base in Colchester. The company has had over twenty five years to find its way around the plastics industry and so has learned a thing or two. That knowledge and experience is something Alastair Higgs and his team are happy to pass along to the company's growing base of customers.
Two of the most productive and hardworking members of the Simply Plastics team are Elsie and Jenny. They never go home or take a day off. They do what's asked of them day in and out without complaint. They can seemingly turn a hand to anything that's asked of them and do so at very short notice. Elsie and Jennie are Tekcel routers, the second of which has just been supplied and installed by Complete CNC Solutions, as was the first.
In addition to supplying its customers with sheet, rod and tubes from stock, Simply Plastics also offers an extensive range of finished and semi-finished products manufactured in house using Elsie and Jenny. Replacement table tops and shed windows are regulars on the production roster but cake decorating tools and garden mirrors in bewildering variety make an appearance too.
Alastair Higgs has a practitioner's feel for the material he deals with and an appreciation for the quality of production enabled by the stable of Tekcel routing hardware. ACM is a very popular material he deals with and it's finding a wide variety of application beyond its original design remit. It's used for sign trays of course, but in a brush metal variant Simply Plastics is using the product to make control panels and picture frames too among many other things.
Despite being beasts of burden and demonstrating an endless appetite for work, Simply Plastics' Tekcel routers are also appreciated for their versatility. Tekcel routers can deal with any routable material, deliver astonishing accuracy and a phenomenal finish. Apply that formula across the kind of material range that Simply Plastics stocks and the range of industries it serves, and it's clear that the service the company extends to its customers is likely to be in demand.
With a 3X2 metre router bed at its disposal, Simply Plastics is fast making a name for itself in bespoke designed Kitchen Splash Backs. Far from being just a functional inclusion required of any kitchen, modern materials are turning splash backs into decorative statements. Kitchen layouts being what they are, no two are the same so having the potential to cut any shape and position apertures exactly where they are needed raises the possibilities by orders of magnitude when the variety of materials used is considered. Simply Plastics will cheerfully deal with any and all enquiries that come its way and, see them through to a successful and stunning conclusion too.
Complete CNC Solutions is proud to have plays its part in supporting the development of Simply Plastics and we wish Elsie and Jenny the long, fruitful and very productive lives they were designed to lead.
Tekcel routers enable high capacity production using any routable materials and can be configured to suite the needs of all sorts of businesses. Our Tekcel EXR routing platform can be supplied with a range of options and accessory items to make it suitable for all kinds of applications.
Complete CNC Solutions offers a very wide range of router tooling designed expressly to get the best from any CNC routing hardware. Call us to discuss your needs.