SIGN AND LABELS HEREFORD ADDS TEKCEL MUSCLE TO ITS PRODUCTION CAPABILITY.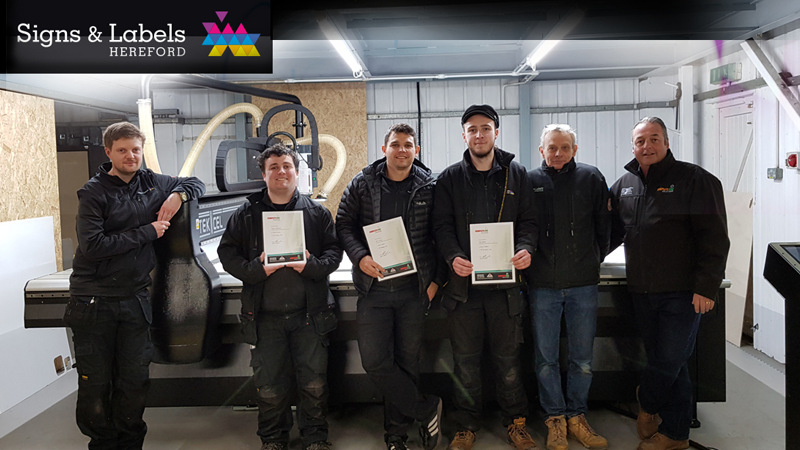 SIGN AND LABELS HEREFORD ADDS TEKCEL MUSCLE TO ITS PRODUCTION CAPABILITY.
Signs and Labels Hereford has installed a Tekcel EXR from Complete CNC Solutions and it's ready for action…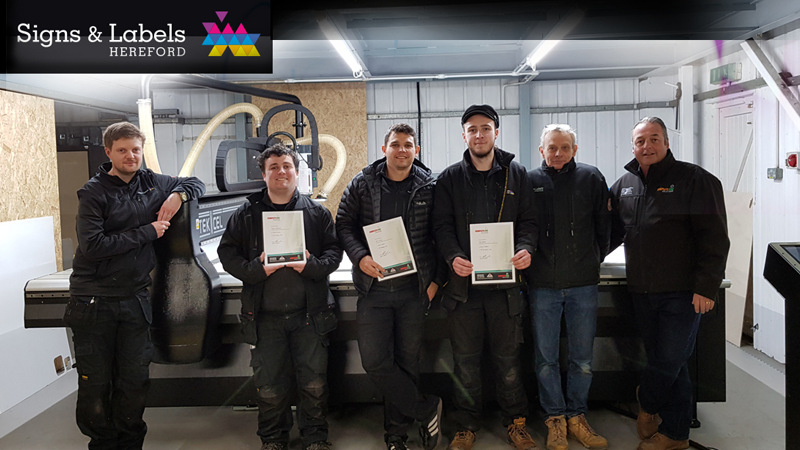 When you've been in business for twenty years, and have a get-it-done business ethic that puts customers and their needs at the heart of what you do, word gets around. As a result, you never know quite what is going to walk through the door in terms of the jobs you'll be expected to undertake. Thanks to the installation of a Tekcel EXR computerised router and digital cutter from Complete CNC Solutions, John Hughes and the team at Signs and Labels Hereford, know they have the means to tackle any job a customer needs doing.
The Tekcel installation was some time in the making. Indecision has nothing to do with that. Making the right decision does. John travelled far and wide, getting himself in front of all that the routing supply side of the industry had to offer. Foreign exhibitions. Local demonstrations. User visits. Every avenue of enquiry was followed up. Having drawn on all of that experience and plotted the development of his business, John's Hughes' final push took him to a full-on demonstration of a Tekcel EXR by Complete CNC Solutions. The system acquitted itself well and a shake of hands confirmed that the Tekcel was the man for the job.
The system was specified with knife cutting and print-cut registration systems installed. John and the team would then be able to add value to print production off the company's Mimaki flatbed by cutting in tight register. The Tekcel system was also accorded the responsibility of dealing with a wider than usual ranged of rigid materials to cut. The creative team at Signs and Labels is always finding imaginative applications for unlikely materials and, with the Tekcel onside, now has the means to turn creative ideas into stunning output for the end-user customer.
Computerised routers have to do a demanding job and do it day in and out. To ensure that the machine itself has the muscle to endure such a task, Tekcel routers are designed along lines often referred to as 'over-engineered.' In this context, that means having massively stiff chassis components and drive systems that exert very fine tolerances. In practical terms it means that Signs and Labels will be able to deliver output to its customers that fully satisfies the company's own very high standards.
Signs and Labels is now ready for action and has been trained in the use of its new team member by Complete CNC Solutions. The system is capable of doing all that comes its way and Signs and Labels will be able to extend the range of services it offers.
Julian Sage, Complete CNC Solutions' Managing Director said of the installation, "We're particularly proud to have been selected as Signs and Labels' partner in supplying this new router. We were compared with a lot of competing hardware and selected on the merits of what our systems and support offer. It's going to be great to see the things that Signs and Labels accomplishes with its new hardware. It's going to take its business from strength to strength. Here's to the next twenty years, John."