COMCO PLASTICS INSTALLS FOURTH TEKCEL CNC ROUTER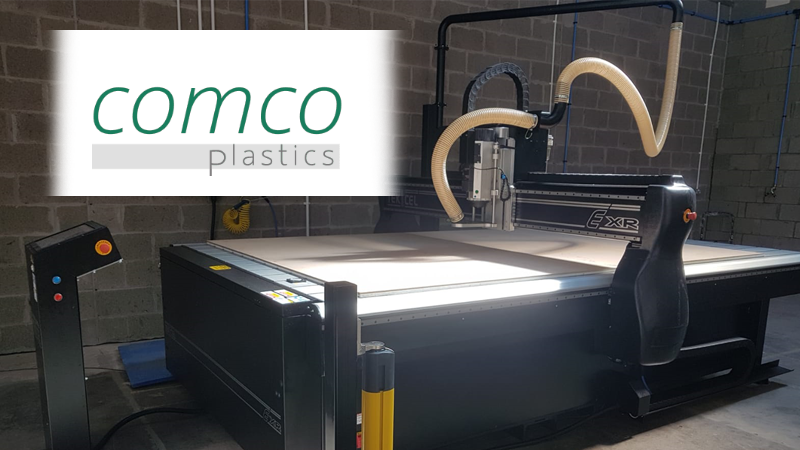 COMCO PLASTICS INSTALLS FOURTH TEKCEL CNC ROUTER
Located in Belfast and widely regarded as the region's leading independent plastics stockholders and distributor, Comco Plastics has just installed its fourth Complete CNC Solutions supplied Tekcel CNC routers…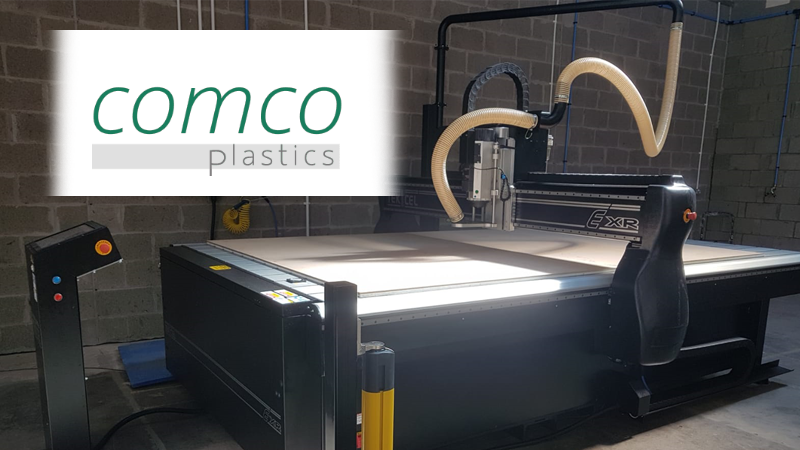 Comco Plastics, based in Belfast, can look back on over thirty years' experience in the business of plastics distribution and stockholding. The company moved to its purpose-built premises in 1997 and today services customers in the region with sheet, rod, film and tube plastics from the world's leading manufacturers and suppliers.
High confidence in product availability and the scope of products stocked means that Comco is the supplier of choice to leading fabricators and finished goods manufacturers. The company also extends its customer a programme of total technical support in the field of specification and application development. Among the company's most popular offerings is its customised solutions service. This service includes trade supply of signing in addition to profile cutting and has grown rapidly in recent years.
Comco prides itself on its service levels and in order to maintain the exemplary services it offers its customers, despite the pace of its growth, capacity is key. That capacity has been provided until recently by a team of three, 3x2 metre Tekcel routers, each supplied, installed and maintained by Complete CNC Solutions. The routers deal daily with a diet of rigid sheet materials comprising acrylics, composites and engineering plastics. Now, with demand rising for the customised services offering, Comco has just installed another 3X2 metre Tekcel CNC router - its fourth, again supplied by the hardware's exclusive distributor, Complete CNC Solutions.
Comco has seen demand in particular for the service it extends to sign companies growing and a large part of that is fuelled by the need for profiled ACM panels used in sign manufacturer. This popular sheet material comprises two aluminium skins sandwiching a plastic core and is used for making facia signing thanks to its greatly simplifying construction and requiring a lower component counts. With its battery of Tekcel CNC routers available, top quality ACM output is delivered to Comcos growing network of sign manufacturing customers with no quality compromises.
Tekcel CNC routers are available in a wide variety of sizes and configurations to suit the needs of an equally wide variety of customers who value the hardware's versatility and quality. Customers like Comco appreciate Tekcel's heavily engineered construction and longevity in the face of huge workloads. Unlike lighter hardware, Tekcel is designed around over-specified controls and drives that deliver astonishing accuracy over the long term. With massively stiff chassis construction reflected in exemplary cut edges and consistency, Tekcel has become a byword wherever capacity and reliability are central themes. With four Tekcel routers working hard, Comco Plastics would appear to agree.
If you have an application involving routable materials or a need for affordable and reliable CNC routing capacity, a Tekcel EXR router is available in a size and configuration to suit you and your business. Contact Complete CNC Solutions for further information.
Tekcel routers deliver exceptional results using cutters from Complete CNC Solutions Router Tooling Range. Our range is suitable for dealing with any routable material and delivers exception value and longevity.