Benson Signs Installs Its Second Tekcel CNC Router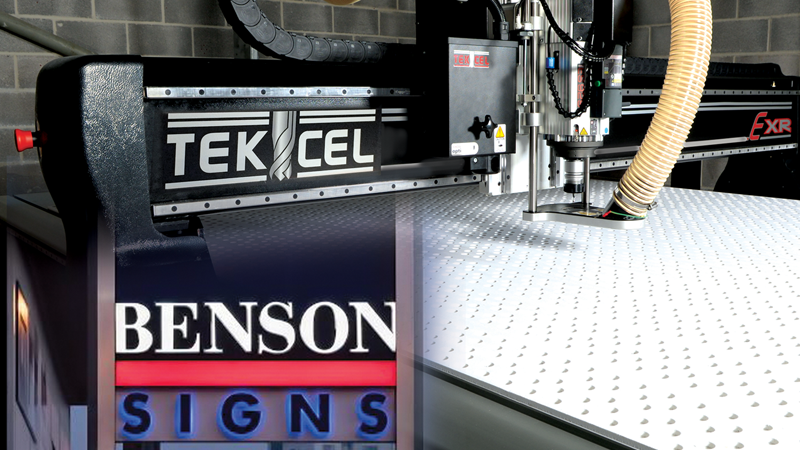 Benson Signs Installs Its Second Tekcel CNC Router
BACK FOR SECONDS
Benson Signs installs its second Tekcel CNC router…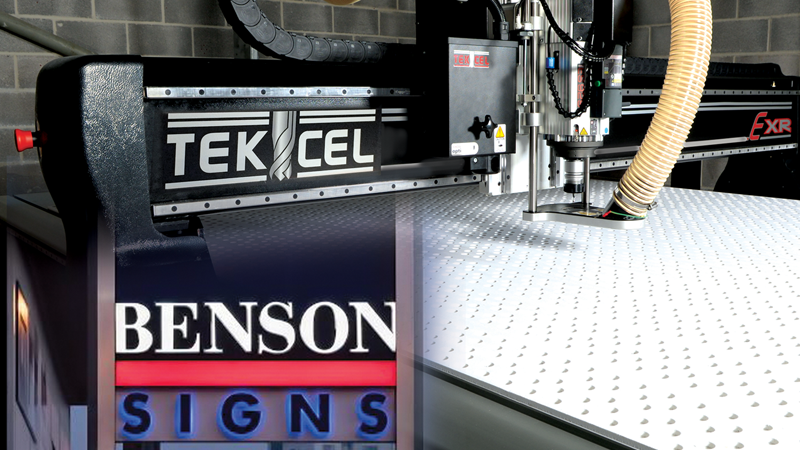 Benson Signs is among the UK's largest sign manufacturers. Founded in 1969, the company is today headquartered in the northern docks area of Liverpool and has at its team's disposal over fifty-thousand square feet of design and production space that was once tenements, an engineering works and a pub.
Bensons Signs is well-equipped and has been an opinion leader and innovator since its founding. It was among the first sign companies to introduce line-following laser-profiling, supplementing or replacing traditional technologies such as band-saws and pantographs. It was also home to the UK's very first computerised routing system which took sign production beyond its dependency on templates and drawn input and well and truly into the digital production age.
The company has always taken its responsibilities to the environment seriously and is recognised by The Carbon Trust. Today, almost 40kW finds its way into its electricity supply from PV panels on its own factory's roof. Evaporative cooling helps workplace comfort without the environmental overhead of air-conditioning and two solar water heating systems further reduce the company's energy consumption. The whole factory is lit with LEDs and materials with recycled content are increasingly used in its manufacturing output.
Many of the most familiar businesses on the High Street, and those beyond, come to Benson Sign for the signing and other identity continuations that support and distinguish their brands. Their needs are well met. Benson Signs' is able to offer its clients design and project management services and production output from all modern sign manufacturing processes in addition to those of traditional arts including screen-process printing.
Benson Signs works with a diverse range of material reflecting the needs of its customers. Plastics, metals and naturally occurring woods feature in addition to recycled and engineered materials and modern composites. These materials are all machined or processed in-house and often find themselves in creative alliance with others in the pursuit of the imaginative sign fabrication solutions for which Benson Signs is known.
Demand for Benson Signs' services and output had recently grown to the extent that more production capacity was needed in order to maintain service levels and the quality that is expected. The company opted for another Tekcel, an EXR CNC production routing platform, supplied by Complete CNC Solutions.
The Tekcel EXR is available in a selection of sizes and can handle todays' sheet sizes easily and efficiently. With 30mm recirculating ballscrews, it's engineered to deliver exceptional cut quality without post-cutting manual intervention and is clean to operate. Complete CNC Solutions can supply Tekcel CNC routers and digital cutters with a range of safety measures including area and boundary guarding IR lasers making the system fully compliant with workplace standards.
Production needs are handled on the EXR routing platforms by a 9kW spindle and automated tool-changing. Very effective vacuum material holding systems keep the workpiece securely anchored. In use, jobs that would otherwise require manual intervention can be completed in one operation involving multiple tool changes. Complete CNC Solutions also makes knife-cutting and print-cut registration systems available for the Tekcel EXR. A podium mounted touch-screen operator console greatly simplifies the system's operation.
The Tekcel EXR is many miles removed from the UK's earliest computerised router installed at Benson Signs in the 1980s. The team that will operate it though is still steeped in the customer-led business ethics that have seen the company thrive since it was founded. A versatile tool in the hands of high trained and creative workforce can achieve great things. The evidence is there - in every High Street.