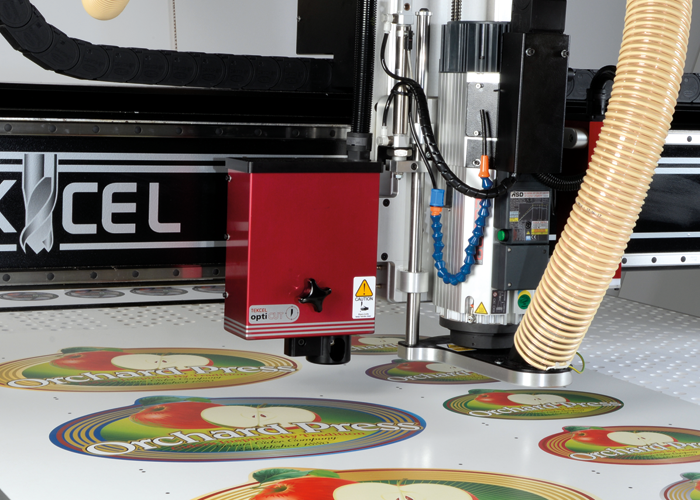 Routers rout - right? So Tekcel routers equipped with its widely talented OptiCut Knife Cutting system opens many doors. That mean adding more value, to more materials, and in more ways than you imagined possible.
Fit an OptiCut Knife Cutting system to your Tekcel CNC Router and you'll give it a much wider role in your business. It'll be taking on and powering through jobs that you probably thought were the exclusive province of much more costly and narrowly talented digital cutters and flatbed plotters.
Tekcel's OptiCut is all you need, and all you need to know if you want to explore the farthest corners of your Tekcel router's capabilities. Tekcel router's rout... Now they knife cuts and crease too.
Applications for knife cutting and creasing in many industries are huge and if fitted with Tekcel's Opticam, cut to print registration system, you'll be cutting around printed matter too... Some rigid and many flexible materials using your router are sometimes not always possible and therefore are never be fully explored and even ignored. That going to stop when you retrofit a Tekcel Opticut Knife cutting system to your Tekcel router.
Tekcel's OptiCut doesn't just save time, operator input and money. It fully enables creativity too and sends versatility skyward. Suddenly, you can switch between fixed/drag or oscillating knife work on flexible materials and if fitted with Tekcel OptiCam, anything you print can be contour knife cut or creased too – With Tekcel, unlike operations you'd consider using a flatbed digital cutter, you're getting the full-bore capability of a well-muscled router too. And then sum. It's faster. It's cleaner. And it won't turn away if the material you want to cut is a bit thick or tough, or thin and flexible, or easily compressed etc.
Tekcel's Opticut is the most powerful Knife cutting system out there and is the one you can actually use to do anything that comes your way. It has Tekcel on the label. And it has the OptiCut knife cutting and creasing option fitted.