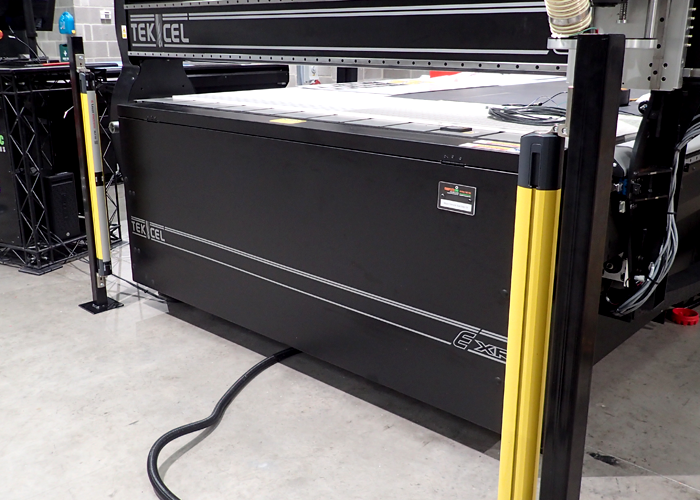 Your Tekcel router does a brilliant job and works relentlessly to achieve its legendary productivity. It's important that it stops working immediately though if operator safety is compromised. Complete CNC Solutions can help.
Our safety guarding system is just about the most reliable and least intrusive way we know of protecting operator safety. It sets up an clearly delineated zone around the machine which, if breached, immediately stops the system operating. This highly visible system encourages safe operating practices and demonstrates to all that safety is a paramount concern. It's effective and it doesn't compromise machine access or impede the flow of material through the router or through its operating environment so retaining efficiency.
While other systems choose to surround the router with mats or pads, we take a different approach. We found mats to be unreliable over the long term and sometimes a hazard in and of themselves. Instead, we use an infrared laser array with a conspicuous emitter arrangement and detector.
Our safety guard is brightly coloured and obvious. If the light it transmits and receives is broken by anything entering a region its configured to protect, it acts - instantly. It stops the machine it its tracks - halts the spindle and waits until the hazard is removed before it can be easily continued and production can resume.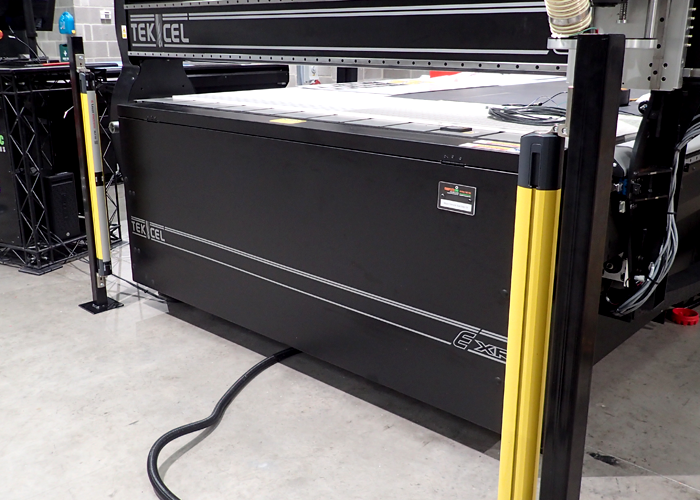 Safe operation is a primary goal with every Tekcel CNC Router installation Complete CNC Solutions makes. Our solution delivers just that. If yours is an older installation and you'd like state-of-the art workforce protection - we can help you too.
Don't compromise where safety is concerned. Half way measures are little better than no measures at all. Deploy the best and most reliable solution we know. Safety guarding from Complete CNC Solutions - Direct to you.