Complete CNC Solutions was established to supply woodworking and joinery companies with a range of CNC routing and cutting systems...
Complete CNC Solutions has over 25 years' experience and hundreds of hardworking installations in the woodworking and joinery industries. The power behind those installations is Tekcel, supplied and supported by Complete CNC Solutions.
Complete CNC Solutions delivers its knowledge and expertise with every Tekcel CNC Router it installs. And its technical and operational support as soon as it's installed.
Companies of all shapes and sizes come to Complete CNC Solutions with fabrication and manufacturing challenges. We respond with practical and affordable solutions. If that means a specific machine configuration is needed, we're here to deliver. If it means a specialist material has to be processed, we'll develop the means to deal with it. 

Tekcel . . . It's more than a system . . . It's a solution.
Furniture Manufacture
Exhibition Construction
Joinery
Shopftting
Cabinet Making
Signage
Screening
Decor
Flooring
You'll want to explore your options before you choose the CNC router you want to bet your business and your future on. You should. You'll quickly discover that lightweight machinery masquerading behind suspicious pricing and outrageous performance claims may not be the bargain it sometimes appears.
If you buy like your future depends on it, you'll want a partner with a track record. Ours is impressive. We've helped engineering businesses just like yours grow and succeed.
Put Tekcel from Complete CNC Solution at the heart of your growth and development plans. It's more than a system. It's a solution.
You'll want to explore your options before you decide to partner with us. You should. It is the differences we deliver that have made us number one. It's our continuing development that keeps us and our customers growing. It's a partnership that can work for you.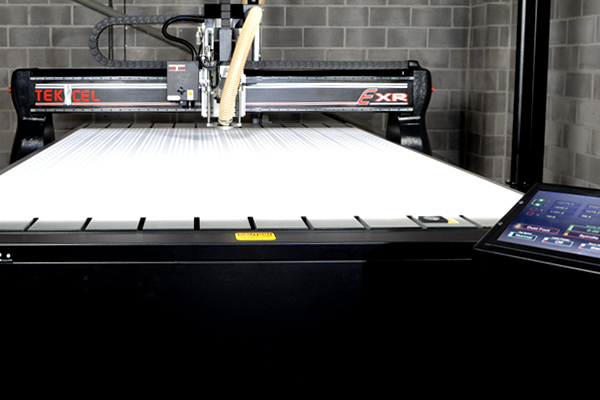 Please call or email the contact form and we will be happy to assist.
Charwell House,
Cheddar Business Park,
Wedmore Road,
Cheddar,
Somerset,
BS27 3EB
Telephone: +44 (0) 1934 742 186