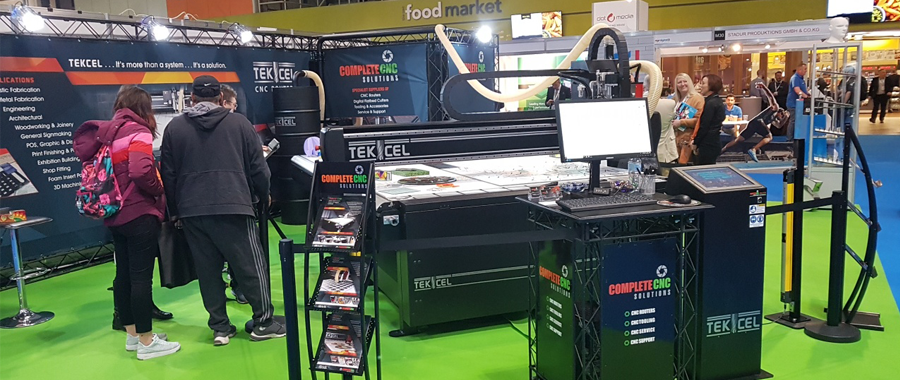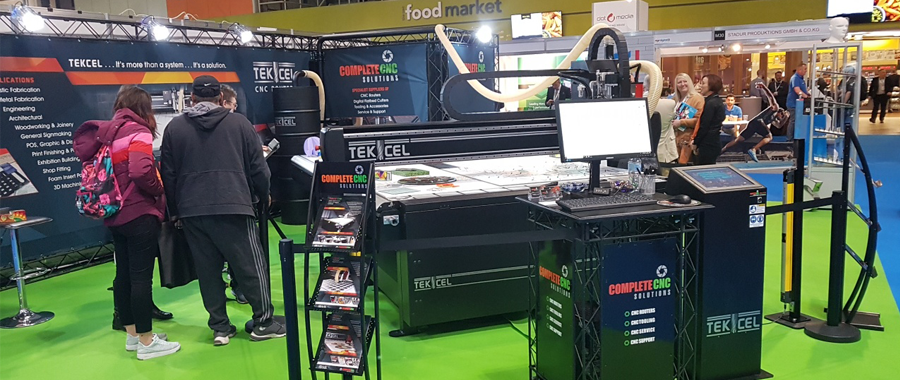 Complete CNC Solutions reports great results from Sign and Digital with customers investing in Tekcel hardware for reasons they choose…
Sign and Digital presents those who're shopping for major equipment such as printers, routers and digital cutters with the opportunity to see all the hardware that's on their shopping list in one place and on the same day. No surprise then that lots of visitors to the Complete CNC Solutions stand at the show were 'on a mission.'
Complete CNC Solution's Stand was well attended from the off. Many of the vistors who arrived were there to say hello and, of course, to see what was new in the world of CNC Routing and Digital Cutters. The Complete CNC Team were putting the Tekcel EXR routing and digital cutting platform though its paces live and, as always, it was quite a show.
The quality of the cut edges that come off the bed of Complete CNC Solutions' Tekcel hardware at shows are always the subject of discussion. The results are nothing less than amazing but are easy for Tekcel owners to achieve with the right cutter and just a little application training. Gillian Allen was on the Complete CNC Solutions stand to advise the curious and the knowledge hunters how it was done.
Even if you're not the proud owner of a Tekcel router, improved results are within reach if Complete CNC Solutions' cutters are used and its methodologies followed. Many visitors left the stand better informed and have since gone on to apply what they learned at Sign and Digital using our cutters.
To see a Tekcel router confidently working its way through a challenging material invited observations contrasting that with other hardware at the show from some visitors looking for new routing muscle. All were agreed that the EXR on display, was doing a very accomplished job and getting it done relatively quietly and very cleanly. 
Digital cutting was the focus of many visitors interest and that's not surprising given the number of people looking to add value to  print at the show. Complete CNC Solutions had a great story to tell there too. The Tekcel EXR platform supports numerous optional enhancements that extend its capabilities to include cutting printed flexible and rigid materials in tight registration. Unlike lightweight digital cutters and flatbed print finishing systems though, the EXR is perfectly capable of dealing with high volumes and materials that leave lightweight systems wondering what to do.
Needless to say, some show-goers had come to Sign and Digital determined to make purchasing decisions and Complete CNC Solutions was in receipt of an impressive number of orders. Some arrived in the shape of challenging applications that needed approaching from a solutions' viewpoint, others were investing for the future and looking for hardware capable of carrying a busy enterprise forward. Making up the numbers over the duration of the show were existing Tekcel owners committed to buying yet more Tekcel hardware from Complete CNC Solutions to bolster capacity further and add yet more production capability.
Julian Sage, Complete CNC Solutions' MD said of the event, "Sign and Digital takes a lot of organising but we have a great team and we seem to get it done. It's good to meet our long established customers and to make contact with those we've not met before. We don't underestimate the trust that's put in us and in our Tekcel routing hardware when people cast the vote our way. I'm delighted to say, we fully live up to it. I'm looking forward to working with our new customer and to returning to future shows with my team."